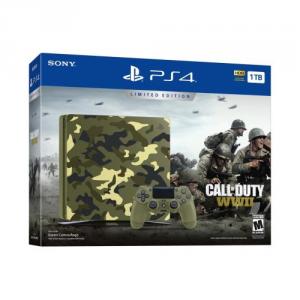 PlayStation 4 Slim 1TB Limited Edition Console - Call of Duty WWII Bundle


BRAND NEW - FULL WARRANTY
antonline is an authorized Sony partner.
FREE SHIPPING Processing & packing takes 1-2 Business days prior to ship.
PlayStation 4 Slim 1TB Limited Edition Console - Call of Duty WWII Bundle ManufacturerSonyManufacturer Part Number3002200Brand NameSonyProduct LinePlayStation 4 SlimProduct Model3002200Product NamePlayStation 4 Slim 1TB Limited Edition ConsoleProcessor & ChipsetProcessor ManufacturerAMDProcessor TypeJaguarProcessor CoreOcta-core (8 Core)Processor Speed1.60 GHzCache4 MBMemoryStandard Memory8 GBMemory TechnologyGDDR5Memory Bandwidth176 GB/sDisplay & GraphicsGraphics Controller ManufacturerATIGraphics Controller ModelRadeonNetwork & CommunicationEthernetYesEthernet TechnologyGigabit EthernetBluetoothYesBluetooth StandardBluetooth 4.0 + EDRWireless LANYesWireless LAN StandardIEEE 802.11a/b/g/n/acStorageHard Drive Capacity1 TBOptical Drive TypeBlu-ray Disc PlayerDual-Layer Media SupportedYesOptical Media SupportedBD-ROM DVD-ROMInput DevicesInput Device TypeGame PadGaming Controller ConnectivityWirelessInterfaces/PortsHDMIYesNetwork (RJ-45)YesUSBYesUSB StandardUSB 3.1Power DescriptionInput Voltage120 V ACPower Consumption165 W

Please understand , this is only one of over 100,000 products offered for sale by antonline and shipped from our many different automated warehouses. There are no local stores or pick up. All the product information we have is provided by the manufacturer and in the item listing. Manufacturers change colors and item details frequently and often do not update pictures. We have no personal knowledge or experience with this product or ability to customize it. All items ship as addressed in an automated warehouse. The time to process and ship is listed prominently in each listing. It usually takes about a week to get your item. It may be faster or longer as shown in the listing or if credit check or special handling is required. There is no human intervention in the process. That is how we control costs and keep prices are so low. Paypal requires that we only ship to the verified Paypal address provided with the order. NO ADDRESS CHANGE IS POSSIBLE.




Atlanta Network Technologies, Inc.





We accept payment by: Paypal.




Shipping to: United States

Excludes: Alaska/Hawaii, APO/FPO, US Protectorates, PO Box.





Antonline eBay Return Policy

Returning an item purchased from antonline is easy and fully automated with our "Hassle Free Return Program".
Please email to request an RMA link.